Wednesday, December 07, 2005
Chapbook Review: Lauren Bender -- The Dictionary Poems: Some Bees
First off, gotta hand it to the designer at NewLights Press (which appears, sadly, to be webpage-less) for an ultra-nice cover. This 5.5"x8" chap is bound in handmade, straw-colored paper with an agreeably construction-paper kind of feel, and the front features a wide, single column of what appears to be random text. But get this: the majority of the text has been white out, by hand, with ye olde office-type correction fluid. The only words left unblocked are the title and the author's name. Nice!
And, to top it all off, the design reflects the work itself, a series of short poems that work their way across the "B" section of a 1994 American Heritage Dictionary. Various words within the poems appear in boldface, as if they were dictionary entries, or broken into syllables, like so:
ba_by's breath
. But the poems themselves don't seek to define or denote their subjects, but to refine and connote their meanings through reference to their neighbors:
"An inflatable bag containing the words
of thoughts
of a cartoon character.
To ride
To expand
to
bulge
"
The work also invites the reader to partake in a sort of word guessing game -- as the poems proceed up and down the "B" section, I began to guess ahead at the word that was being talked around --
"small domestic fowl
small aggressive person
small aggressive boxer
between a flyweight and a featherweight."
I think these guessing games are important to the work, as they return the reader to the excitement and fun of words in themselves as communicative tools, as expessors -- much as other sections that rely on wordplay bring us back to the fun of the sound of words --
"
my
foamy
ba_lo_ney
light, soft, buoyant wood,
insulation, floats, and hobby crafts".
While there are 20 poems in this collection (the chapbook magic number?), it seems even shorter as some of the poems are no more than 3 lines long. The shortness lends the poems a crisp quality that wavers between creepy and joyous, moving from "A city in/ A country/ of hanging" to "a Christmas tree of people/ on the arm of
Baltimore
" within a single page. These poems may, in fact, appear somewhat disjointed at first -- thrown together only by their ties to the dictionary itself, but I think this is all part of what the author is getting at -- the ties, nebulous and all too important, that our big old evolved hyperglossic monkey brains make for us, and between us --
"Marked by manner
Marked by language
Marked by savagery
Marked by language."
This collection was published in an edition of fifty! Yikes! And no press or author webpage, seemingly . . . I'll poke around a bit more and report back to you.
posted by Reen | link | ...talkety...0 comments
- - - - - - - - - - - - - - -
Your Brother the Visionary
In the slatted shade of one o'clock,
He hatched and cross-hatched
In sharpened No. 2 the flanks
And metallic tails, the tundral
Shadow of drifts and continents.
Some people are simply dead
to the machinations of all concerned,
but you knew he was a pioneer,
and thus immune to all the standard
cures: dating and drinking and the stark
tableau of it totally does 0-60 in five
seconds flat. Wanna see? Wanna see?
He just kept drawing. His cyborg
malamutes awaited, barking out,
Oh yeah? You'll see. We will drag you
through your sleep, we will erase
all your records, your highlights,
under the cold light of the arctic stars,
we will blow all of you away.
* * *
Tonight, barring an attack of the super-lazies, I will post a review of Lauren Bender's chapbook "Some Bees." Huzzah!
posted by Reen | link | ...talkety...0 comments
- - - - - - - - - - - - - - -
Tuesday, December 06, 2005
Snow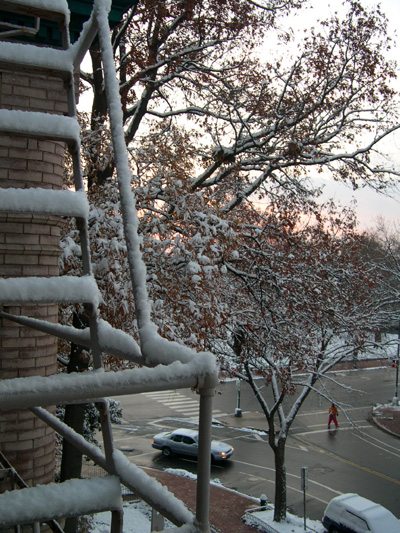 posted by Reen | link | ...talkety...0 comments
- - - - - - - - - - - - - - -
Monday, December 05, 2005
The Best Little Search Term Ever
Not one, but two people have come to my site by googling the phrase:
"Who invented Jolly Ranchers?"
Because I am better at internet research than the people who come here looking for Jolly Ranchers, I shall satisfy their curiousity, and thereby, weirdly justify their badly formulated search terms. The Jolly Rancher was invented by Bill and Dorothy Harmsen of Golden, Colorado, who founded the company in 1949, and shortly thereafter invented the candy. The company was later acquired by Hersey, and has since become part of the Great American Candy Megalobusiness, which is really nothing more than a conspiracy between ignoble dentists and sugar cane farmers, bent on making you fat and full of expensive dental work.
posted by Reen | link | ...talkety...0 comments
- - - - - - - - - - - - - - -
Books in the mail:
The Hounds of No
by Lara Glenum
Bramble
by Joseph Massey
posted by Reen | link | ...talkety...0 comments
- - - - - - - - - - - - - - -
Sunday, December 04, 2005
Sh*ts and Giggles
Haven't blogged in a while, and it'll probably be a few days before I really get started again. Weekend derailed by last-minute Friday work hell that has translated into weekend-long worry session. Mark came up Friday night to help keep me distracted from my own angst. We had coffee with the very lovely
Emily Gordon
yesterday, spent some time out in Maryland horse country, bought hot sauce, and watched the latest Harry Potter movie, although Mark almost poured his very large cup of diet coke on the couple behind us, who kept talking all the way through.
Anyway, wish me luck at work tomorrow, and in the meantime, here is a picture of Mark riding a horse named Giggles. Yep. Giggles.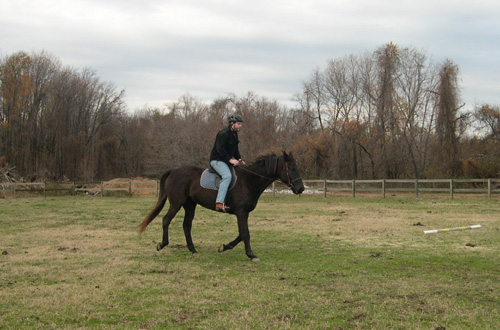 posted by Reen | link | ...talkety...0 comments
- - - - - - - - - - - - - - -