Saturday, January 14, 2006
Progress Report
If it wasn't for
Octopus
, I would never have known about
this piece of awesomeness
. I've got
The Thorn
in my bag right now.
I have "Fairytale of New York" stuck in my head. Not so bad.
Much progress on editing Drunken Sailor poems. Plus, two new orange poems, and some dream poems.
In handbinding-land, the cover and spine have been attached, and I am in the process of covering the boards with bookcloth and decorative paper. Once they are completely attached, all that is left is lining the inside of the boards. I have only made one error thus far -- I didn't know to leave endpapers to glue to the inside of the boards, but as the binding is sewn and glued to a fare-thee-well, and the lining paper will cover the mull and tapes, I don't think it amounts to much.
posted by Reen | link | ...talkety...0 comments
- - - - - - - - - - - - - - -
Thursday, January 12, 2006
Dream a little dream . . .
I am collecting dreams for poems. I never remember my own. Mark has really excellent dreams but I would like the poems to reflect the biases of more than just one dreamer. So do you have any good dreams you would like to share? Leave 'em in the comments or else you can backchannel me at reenhead-AT-gmail-DOT-com.
posted by Reen | link | ...talkety...0 comments
- - - - - - - - - - - - - - -
That itch . . .
I haven't written in a while, but I think a new burst of creativity might be around the corner. Too much "not writing," and I start to feel disconnected from the world and irritable. I have the Secret History to finish, though, so why not have an orange while we wait? I think this is number XI:
Applies to Oranges
Dogs bark on a barge on the river. The birds
Are hiding again, getting thin
in the fractured dark. Tonight's feature
Presentation: 50s B-grade sci-fi,
Replete with theremin. The chrome knobs
Are chipping, Zenith at its perigee.
Once you could get dizzy just staring.
Back when the oranges were small,
Reedy trees too young to fruit. Now,
They're gone and the birds shiver,
The dogs howl as though monsters
Were walking out of the river, hands
Dripping with futures long past.
posted by Reen | link | ...talkety...0 comments
- - - - - - - - - - - - - - -
Bookbinding Update
The mull has been attached! The mull is a piece of book cloth, three inches wider than the spine of the book, and slightly shorter than the height of the book, which is glued to the spine to strengthen the bond between the signatures. Now that my tapes and mull are in place, I can begin making the covers and hard spine. By then end of my ministrations tonight, the book should look like a book. After attaching the front and back covers to the mull, I just need to cover the boards, and, voila!, a hand-bound book.
Reading
Joan Murray
, thinking about doing an "out loud" test on some of the line breaks and phrasing in the Spectacle of Meat. Still enamored of glue.
posted by Reen | link | ...talkety...0 comments
- - - - - - - - - - - - - - -
Wednesday, January 11, 2006
The Meat of the Matter
So, I've been thinking more about the work of
Mark Ryden
, whose paintings my meat poems are based on. At first I was trying to "recreate" the paintings in words, but Ryden's paintings are singularly unsuited for that: as I've stared at them over many months, I realize how much his paintings are a reworking of a Byzantine iconology (Baroque Catholic as well . . . think Spain). The Byzantine spirit of sacred decoration aimed to overwhelm the senses . . . by painting, bejeweling, and gilding every surface, one could ensure that the worshipper entering the church would be instantly transported, bedazzled. So many images would be presented simultaneously that the viewer would have some insight, thus, into the multiplicity and grandeur of the deity. This was coupled by imagery that was purposefully flat and affected: I can hardly believe that it took until the Renaissance for anyone on earth to discover perspective. Rather, given that the entire point of the church and its work was to allow people to understand that there was another world, unlike this one, it made sense to make sure that images that purported to be of that world was unlike this one. (The Baroque sensibility in Spain took this from another angle: rather than creating flat images of people, it relied on hyperrealistic, wildly-colored, grotesque images of people). The people in Ryden's paintings have this iconistic feel, with a modern cartoon update (the oversized heads and eyes, the repetition of certain "god" figures, such as Lincoln). And everything that's not a person is a mad jumble of imagery and symbols--lush backgrounds of dinosaurs and prehistoric plants aside 1950s astronauts, Sacred Hearts, and words in Russian, numbers, and Asian symbols. In some respects, the paintings become a language without a decoder ring: signs repeat and enlarge over paintings, but you're left wondering if they have some defined meaning, or are empty gestures places in space simply for the bedazzling qualities they have. It's the semblance of meaning, of mysterious, important, spiritual meaning . . . but is there anything behind it? Do the paintings expose a naked emperor . . . that there is nothing more here than the attempts of the brain to order the flotsam and jetsam of visual imagery that we are constantly assaulted with into a recognizable and transcendant whole, as a way of denying that no transcendence is ultimately possible?
Okay, I think I myself might be descending into meaningless here. At any rate, the poems I'm writing have grown a bit smaller than they otherwise might have been. It's hard to recreate the visual field that Ryden has made, and I'm not sure that I care to . . . so, the poems have moved away from the paintings, a little bit, and have become more their own and different thing. When I first started to write them, I worried that they were incomprehensible without the paintings by their side. Now, I think they are more independent . . . and have a bit more of a Shaker approach to religious evocation: simplicity and unity focuses the mind on the oneness of god (or meat).
posted by Reen | link | ...talkety...0 comments
- - - - - - - - - - - - - - -
Tuesday, January 10, 2006
Mmm...clip art
No progress on binding yesterday. I was too busy playing with the new Dover Clip Art CDs I got in the mail! I now have a ridiculous number of copyright-free typographic ornaments, banners, scrolls, frames, wreaths, initial letters, etc. I think I'm going to have to go back and order the anatomical, botanical, and nautical clip art. Anyway, with the stuff I got yesterday, I created this lovely frontispiece for my upcoming book of meat poems . . .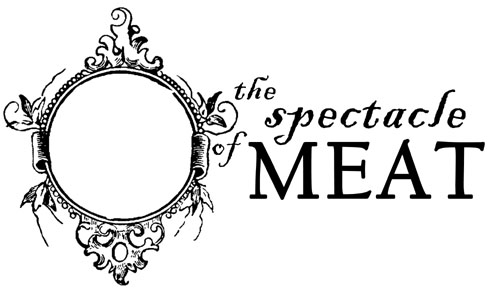 Inside the circle will go a bloody thumbprint (blood being represented in this instance by dark red paint suffused with glitter). All of this will be printed in dark brown on a gold background. Gaudy!
posted by Reen | link | ...talkety...0 comments
- - - - - - - - - - - - - - -
Monday, January 09, 2006
Folding Ruler Star,
That is what you are,
Telling me how far
It is from earth to Mars
We can rely on each other (uh huh, uh huh)
Unlike our little brothers (uh huh, uh huh)
Yes. I have too much time on my hands.
posted by Reen | link | ...talkety...0 comments
- - - - - - - - - - - - - - -
The soundtrack of the weekend: songs from Katamari Damacy. I think it's all that Japanese peppiness that increased my productivity.
Work goes apace on my hardbacked book. Yesterday I printed the signatures, folded them, sewed them to linen tapes, and glued the edges of the first and second, and last and second-to-last signatures (they tend to gape a bit, otherwise). Next stop: attaching the mull (that thick piece of bookcloth that covers the sewing and help attach the textblock to the cover-boards and spine-board. I've got some really nice glossy black bookcloth to cover the boards and a very snazzy black-and-gold checked end paper. Yay!
My parents come into town today. I have not seen them since May of 2004. Hopefully, I will be able to see quite a bit of them in the next week. I have also been attempting to set up dinner between them and Mark's parents (they've never met -- the clash of titans!). It is . . . scary.
posted by Reen | link | ...talkety...0 comments
- - - - - - - - - - - - - - -
Sunday, January 08, 2006
Big Game Books
. I'm in the midst of the press's first project: a extremely limited edition handbound hardback of "The Secret History."
I'm not the only one smelling that new press smell: Check out Jessica Smith's new
outside voices
.
posted by Reen | link | ...talkety...0 comments
- - - - - - - - - - - - - - -