Thursday, February 11, 2010
I Read You Poems
Hey DC! I will read you and your snow some poems! Next Thursday, the 18th at
the Big Bear Cafe
. Happily, all these many snow days have allowed me to revise a bunch of poems. Whew! If all my work days were basically 4-5 hours each, I would be so much more prolific than I generally am.
Anyway, come out and see me! There may be prizes. I enjoy motivating people to hear poems. Perhaps a wind-up toy is in your future, potential listeners!
Anyway, here are the details, if you do not feel entirely like clicking through:
Me! And James Belflower and Laura Scott, Thursday Feb. 18, at 8 PM at Big Bear Cafe, 1700 1st St NW Washington DC (at 1st and R). Be there or be too quadratic.
posted by Reen |link| 0 comments
- - - - - - - - - - - - - - -
Wednesday, February 10, 2010
The View From My Home Office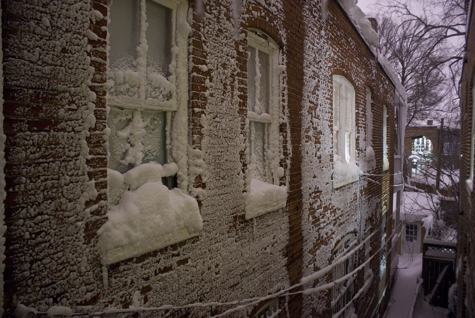 Jeff just took this artsy long-exposure photo of the view from my home office window. Lo and behold the insanity of Snowverkill. Brick walls have blossomed with snow-lichens. All day the winds have blown like something out of a Laura Ingalls Wilder novel. I distinctly remember a passage in one of those books where they had to string a rope between the house and the barn so they could go out and feed + water the cattle in the barn without getting lost in the white-out of a Dakota blizzard. DC is kinda feeling that vibe today. Which is insane. DC = south of the Mason-Dixon, = "a city of northern hospitality and southern efficiency" = we do not have snow. We have long, sultry, 2000% humidity summers wherein the most one can stand to do is to smoke expensive cigars and eat heirloom tomatoes while rocking in a rocking chair and sipping gin rickeys. We are not prepared for all these wintry shenanigans. The freaking National Guard is out and trying to plow. Madness.
In good news, I have not choked on anything or ridden a combustible conveyance these 24 hours. I was scheduled to take a trip in the snow today to deliver service copies of a filing to the post office (about 2/3 of a mile away), but my boss emailed me in the morning and put the kibosh on that, for which I was quite grateful (and which was just as well, because, unbeknownst to me, all DC post offices closed at 11 am out of sheer panic). Had I ventured out into the snow this morning, I would have likely met the same fate as the
Scott Antarctic Expedition
. Instead I filed the submission online, with a service certificate that said "I will serve with hard copies as soon as it is practicable to do so." Which ain't right now, fer sure. Ay-ay-ay.
Jeff says he would have stopped me had I tried to go out, which is good. Nevertheless, I dressed in my best snow gear, with long underwear and giant socks that I bought prior to a 1998 ski trip to Andorra. I also found the ski goggles i bought for the trip and fitted them inside with an old pair of teensy eyeglasses small enough to fit inside the goggle lenses. Despite these precautions, I would probably have died. And if I made it to the post office, only to find it closed, I would have become a modern Vesuvius: a small, bright, hot spark among the hideous snow.
For more pictures and an accurate psychological portrait of this hellscape, check out
Ryan's blog
. In the meantime, there's a possibility we'll be getting
MORE SNOW
next week. Isn't that....funny?////??? HEE EHHE Excuse me while I devolve into hysterical Victorian insanity mode...
posted by Reen |link| 4 comments
- - - - - - - - - - - - - - -
Tuesday, February 09, 2010
24 HOURS IN HELL: New Sam Raimi movie, or my life?
If you guessed (b), you're right! Last night, I choked on an onion, and Jeff had to give me the Heimlich maneuver. Fearsomely delicious! Then, this morning, I got up at 7 am, trundled my way over 2/3 of a mile of snowy/slushy crags, and promptly got on a metro train that caught on fire. Yes, my train ran over an electrical cable that had somehow fallen down...inside the subway tunnel. I have no idea how this happened, but I was in the first car (the one that actually ran over the cable), and was treated to an extemporaneous fireworks display, replete with booming explosions, large flames, and acrid smoke that filled the car and sent us screaming into the aisles and down into the next car. Then about 45 minutes in the smoky, bombed-out train, awaiting rescue. Then I got into work, where there were no support staff, so I had to do a bunch of filings myself (all for a court located well outside DC, so they, unlike the DC/Federal government, are not closed), which involved stumbling my way through a bunch of procedures I had never done before, dealing with an administrative support center whose personnel told me they could not give me a certain phone number because I didn't already know it, and otherwise going through the utterly insane motions of acting like it was a normal day when in fact it is the day of SNOW-VER-KILL: The Reckoning. And yes, it is already snowing again, like the dickens. Jeff and I went for dinner near our metro stop and when we got home, we both looked like windblown yetis. And there was snow in my pants. Feh.
posted by Reen |link| 5 comments
- - - - - - - - - - - - - - -
Monday, February 08, 2010
From the frosty cradle of Snowmageddon comes...Big Game Books!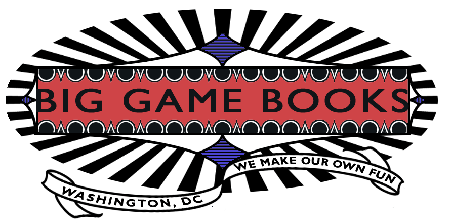 Yes indeedy, our long hiatus is over. Big Game is back, with a
new website
, accessible either through the old URL (http://www.reenhead.com/biggame/biggame.html) or through a new and shiny URL (http://www.big-game-books.com).
Either way, the press is now accepting
queries for full-length manuscripts
.
Huzzah!
posted by Reen |link| 1 comments
- - - - - - - - - - - - - - -
Chicken Pot Pie With Moose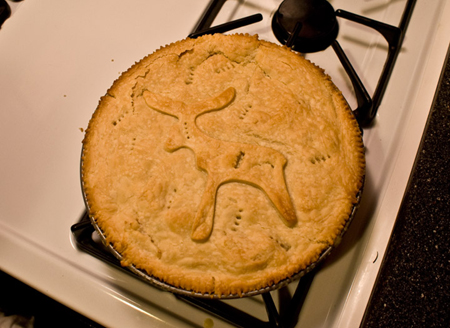 In honor of Snowmageddon. Speaking of which, the Federal Government is closed. Which means I get to work from home today. Yay!
posted by Reen |link| 0 comments
- - - - - - - - - - - - - - -